FAN IDEA: I was thinking about adding it to Fan Ideas but the barren "Flyers"/"Transportation" categories were really bothering me.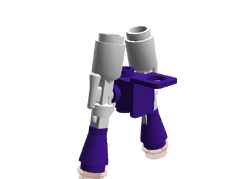 The
M-Pack
is a minifigure-long rocket jetpack based upon the X-Pack. It was designed by the 13thTransportation Factory's engineers after the business success of it's earlier X-Pack model.
Functions/Design
Edit
The M-Pack has two long rocket engines. It is a much more sleeker model, but that comes with the small amount of fuel. It can fly only a short distance and is only enough to reach an island in a 3 miles range. Its long rocket engines can twist, but the engines are quite heavy, therefor twisting them is harder. It was only an experiment and was introduced during the time the player left the Dino World and was dismissed for more durable X-Pack models mid-jungle world.
Purchase/In-game Information
Edit
The M-Pack is free, for it was only an experiment. It can only be used if the player has done the quest "M for Marvelous" in which the 13th Transportation Factory tricks the player into using it to see the jetpack's results. If the quest has not been done, all other players with the M-Pack appear with the X-Pack. Players are free to return the item back to the factory and obtain it again up until you encounter the Deadvine Pirates, where the M-Pack can not be obtained again. (However, if you have not returned it, it will still be in your inventory and is fully usable)